Home Automation Trending Now!
In our recent interview with Central Florida Real Estate Radio Angie spoke with the ladies of Frontgate Realty in Celebration regarding the boom of home automation products driving new sales in home security. Savvy home buyers have their pick of the litter when it comes to new home builders and home builders are doing more than just offering swimming pools and old school home alarm systems. Beazer homes makes a huge stride in technology offerings by including home automation products in some of their new construction home builder packages.  While other local builders are essentially raising track homes from dirt virtually overnight, Beazer knows that customization is where the sweet spot in the buyer's heart lives.
Home automation technology is all about keeping us connected to home – even in the midst of a sometimes crazy, schedule packed life! Honeywell home security products are serious about security and like they always have and always will, Honeywell home security offers reliability in traditional security devices including door and window alarm sensors, motion detectors, glassbreak detection sensors and 110 decibel thief deterring sirens.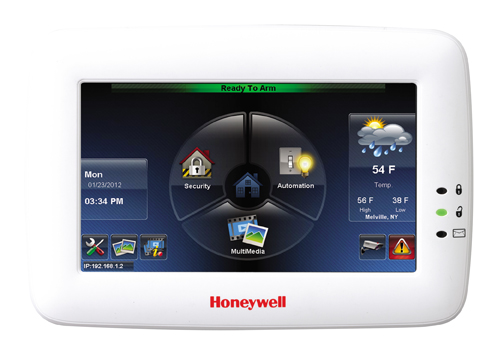 What you may not know is that Honeywell security products are the leading force behind bringing affordable home automation products to consumers throughout Central Florida. Today's home alarm systems can come with sleek touch screen keypads that proudly display family photos and disguise themselves as digital picture frames. A voice command or the touch of a button brings this ultimate home automation controller to life. Home owners can control lights, locks, thermostats, small appliances, garage doors and more right from the home security keypad. Sure, competitors in the market place offer these devices too – but they aren't smart home technology like Honeywell offers. Honeywell security offers these perks in the literal automation form. Your home security integrator can program scenes into your control panel so that when you disarm your home security system, the door automatically unlocks. The lights automatically turn on. The thermostat rejoices at your arrival and the temperature drops to the perfect 72 degrees.
Beazer homes also offers home security cameras in their packages as an add on to potential buyers. Why is this a big deal for home buyers? If you've ever shopped with a mass builder, you can pick out the lot, you can upgrade the cabinets but you can't pre-wire for home security cameras or make any changes to the plans that might not fit "all buyers". News flash! Home security cameras are THE HOTTEST request on the market right now. Technology is getting better and more affordable. Today, home security cameras are main stream.
We're excited to see these options offered in new home construction. If you're in the market to buy, you owe it to yourself to check out these new offerings from Beazer. If you're in the market to sell, tune in to FrontGate Realty's Central Florida Real Estate Radio show every Sunday at 8am for tips and tricks on how YOU can compete with new home builders.